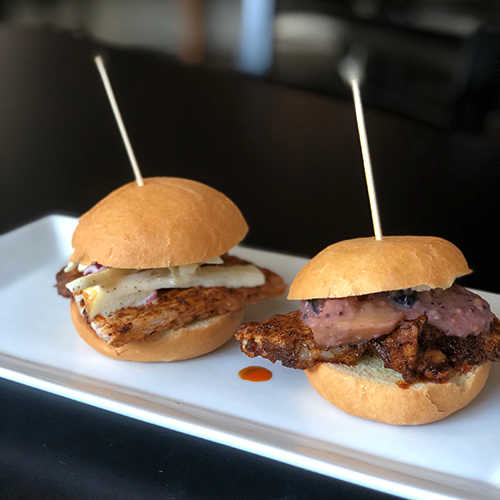 Arlington's
(217) 679-6235
210 Broadway, Springfield, IL
HOURS:
Tues: 11am-2pm and 4pm-9pm
Wed-Fri: 11am-2pm and 4pm-11pm
Sat: 11am-11pm
Closed Sun & Mon
Sliders: 2 for $5
1. Bourbon and brown sugar glazed pork tenderloin with homemade peach and blueberry mustard
2. Chipotle and cinnamon dry rubbed pork tenderloin with fresh apple slaw with side of maple mustard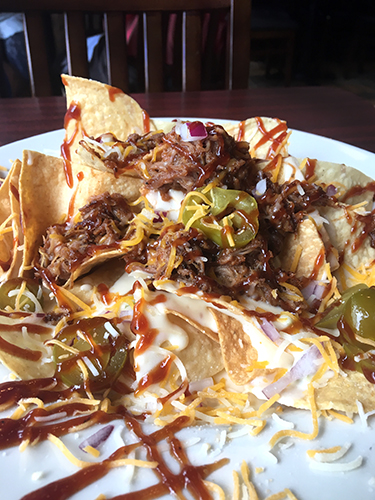 Boones Saloon
(217) 679-3752
301 West Edwards, Springfield, IL
HOURS:
Mon-Fri: 11am-1am (Kitchen closes at 11pm)
Sat: 8am-1am (Kitchen closes at 11pm)
Sun: 8am-11pm (Kitchen closes at 9pm)
Open for breakfast Saturday and Sunday mornings
Jose's Loaded BBQ Nachos
Traditional tortilla chips with homemade cheese sauce, choice of white or yellow Queso, BBQ pork, jalapenos, red onions and sour cream. Dig in and save the creamiest chip for last!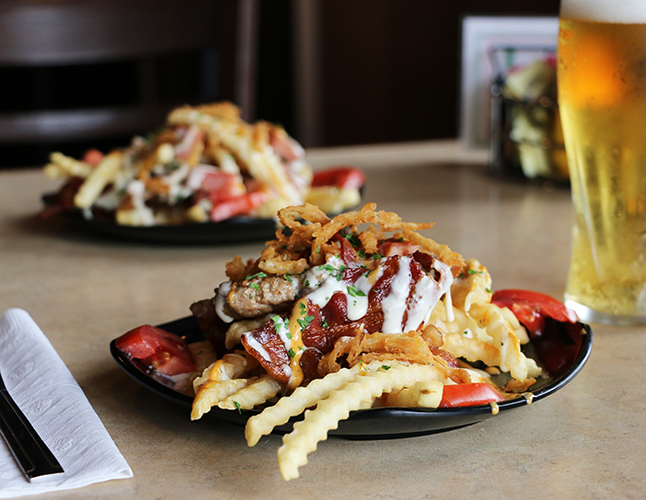 D'arcy's Pint
217-492-8800
661 W Stanford Ave
Springfield, Illinois
Miss Piggy's Porky Pint
It Is Layers of Texas Toast, French Fries, Grilled Pork Burger, Thick Diced Honey Ham, Strips of Bacon. All Drizzled with Our Homemade Cheese Sauce, Garnished with Chipotle Sauce, French Fried Onions, Parsley and Tomato.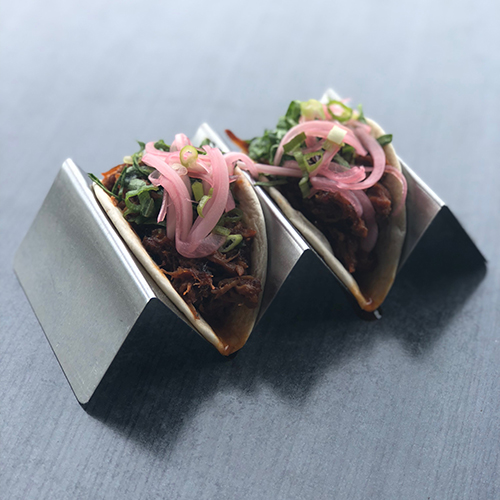 Engrained Brewery and Restaurant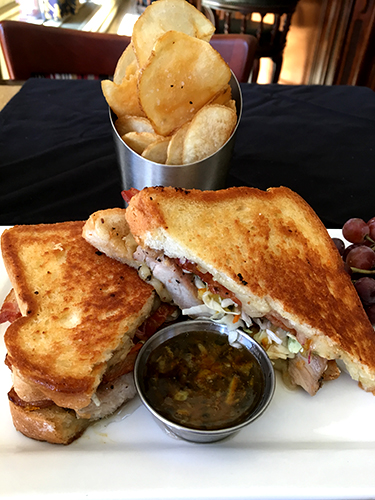 Globe Tavern
(located in President Abraham Lincoln Springfield – A Doubletree by Hilton Hotel)
(217) 544-8800
701 E. Adams St., Springfield, IL
HOURS:
Open 6am-9pm daily
The Piggy Brick
A roasted pork steak melt, with a marmalade/jalapeno jam, Havarti cheese, red onion served on grilled Texas toast. Created especially for #217FoodWeek by Chef Jeffrey Davis.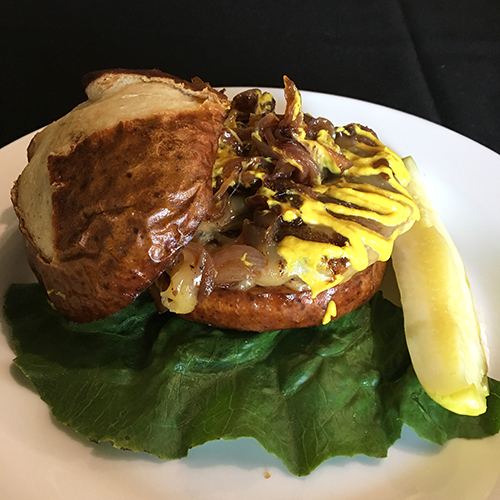 HyVee Market Grille
(217) 726-1011
2115 S. MacArthur Blvd, Springfield, IL
HOURS:
Sun 9am-10pm
Mon-Thurs 6am-10pm
Fri & Sat 6am-11pm
Wurst Burger
Our Dig the Pig offering looks like a burger-tastes like a brat! We're featuring up a Brat Patty Burger, cooked to perfection, topped with Gouda cheese, Paulaner beer caramelized onions and served with brown mustard on a pretzel bun. Wunderbar!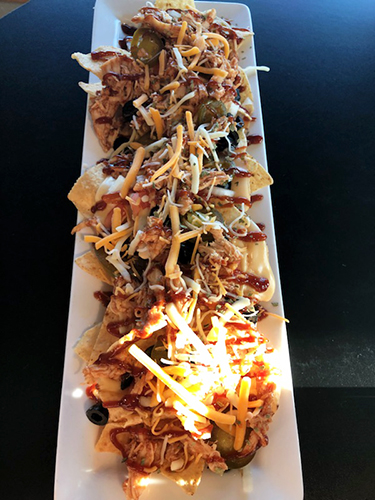 Long Bridge Golf Course
(217) 670-0627
1055 W. Camp Sangamo Rd., Springfield, IL
HOURS:
Mon-Wed: 7am-9pm
Fri: 7am-12am
Sat:7am-11pm
Sun: 7am-8pm
Feature
Slow cooked, hand shredded pork topped over fresh tortilla chips with white cheese sauce, tomato, onion, jalapenos and black olives drizzled with BBQ sauce and served with sour cream.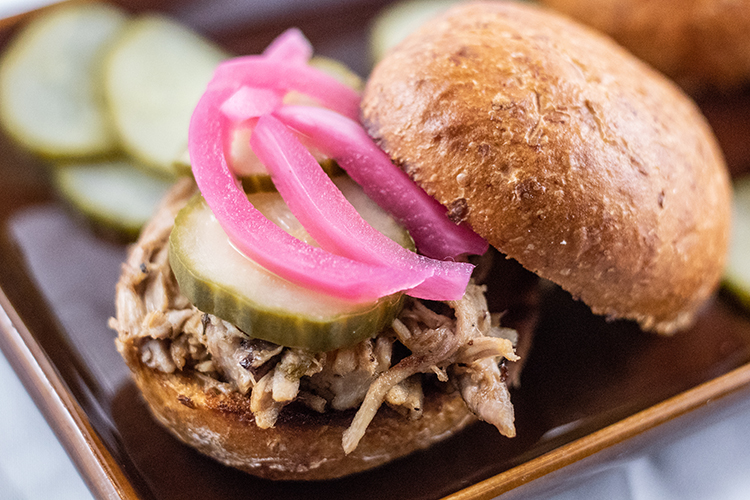 Peases's at BUNN Gourmet
(217) 793-1840
2941 Plaza Dr., Springfield, IL
HOURS:
Mon-Thur: 7am-9pm
Fri-Sat: 7am-10pm
Sun: 10am-5pm
Pork n' Pickles
Two Mojo marinated pork shoulder sliders, topped with pickled red onion and homemade dill pickles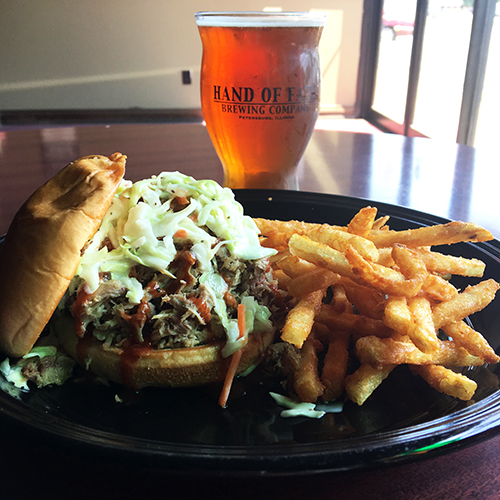 Starship & The Enterprise Grill
(217) 585-8888
2301 Stevenson Dr., Springfield, IL
HOURS:
Mon-Sat: 11am-10pm
Sun: 12pm-10pm
North Carolina Pulled Pork Sandwich
North Carolina style pulled pork sandwich topped with coleslaw and our special North Carolina vinegar sauce on a toasted bun served with fries. Enjoy Starship's take on a North Carolina original!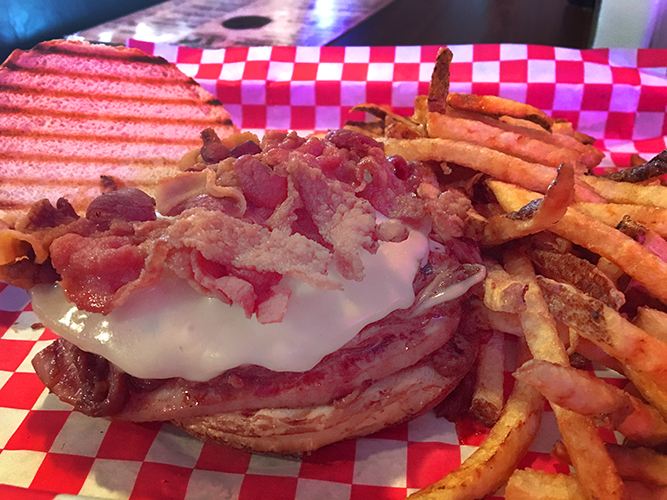 Trade Winds Pub and Eatery
217-679-5482
1700 Recreation Drive
Springfield, Illinois
Three Pigs
Succulent pulled pork topped with mouthwatering smoked ham and bacon, served with hand-cut fries.