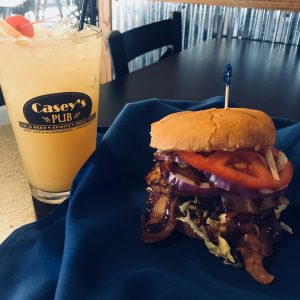 Casey's Pub

Columbian Grand Hall
2200 Meadowbrook Rd., Springfield
217-241-7101
Kitchen hours: Tue.-Sat. 11am-8pm (excluding Friday, March 26 after 4pm due to fish fry).
Jamaican-Me-Hungry – Hawaiian bun loaded with our jerk-seasoned, hand-pattied burger, topped with bacon, grilled pineapple, provolone cheese, lettuce, tomato, red onion, jerk mayo and drizzled with a Jack Daniel's jerk sauce – $7. Add fries or tots to this burger for $1.
Pair your burger with a Jack-Mai-Can Cooler — Jack Daniel's, orange and pineapple juices and sparkling cider, only $5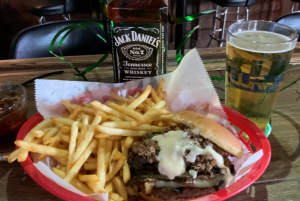 Curve Inn
3219 S. Sixth Street Road B
217-529-5806
Kitchen hours:
Mon – Thu: 11am-2pm and 5-9pm; Fri – Sat: 11am-9pm; Sun 11am-7pm
Cowboy Philly Cheesesteak Burger – One-half pound Humphreys seasoned burger, topped with provolone, seasoned sauteed mushrooms, onions, peppers and shredded ribeye slices. Topped with Monterey cheese sauce on top. Burger cooked to your liking. $7 with your choice of any side. Your burger will go better with refreshing beverages. Enjoy cold Coors Light pints for $2 and Jack Daniel's cocktails for $4.
Order from their full menu https://www.thecurveinn.com/menu
https://www.facebook.com/TheCurveInn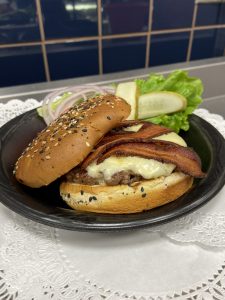 Ginna's Cafe (Inside Scheels)  
3801 MacArthur Blvd., Springfield
217-726-6330
Hours: Mon. – Sat. 10:30am-7:00pm and Sunday 10am-5pm
Spicy Bison Burger – A bison burger patty topped with pepper jack cheese, jalapeno bacon and ancho sauce, with lettuce, tomato, pickle and onion served on the side. Add a side dish, and don't forget to try one of Ginna's amazing desserts.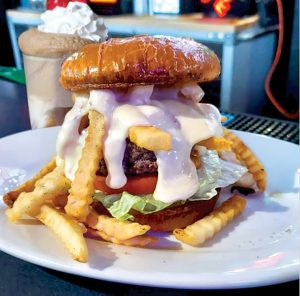 Main Gate Bar & Grill

2143 N. 11th St. (across from Illinois State Fair main gate)
217-528-8940
Serving hours: Breakfast 7am-11am, lunch and dinner 11am-midnight
The Ultimate Burger Shoe – A bacon cheddar-stuffed half-pound burger with all the toppings, fries and cheese sauce. $7 for the ten days of March 22-31. But you don't have to wait until then to enjoy their great food. Enjoy this amazing burger with a cold Coors Light and a special Jack & Coke ice cream float for only $7
Check out their menu at https://www.themaingatebarandgrill.com/menu.
Open for breakfast, lunch and dinner.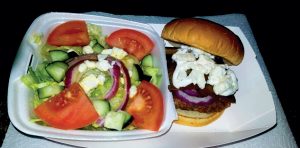 Weebles Bar and Grill

4136 N. Peoria Road
217-528-3337
Hours: Mon.-Thurs.: Lunch 11am-3pm; Dinner 5pm-9pm; Fri.-Sun. 11am -9pm
The Souvlaki Burger – A juicy pork burger, topped with delicious Gyro meat, tomato, onion and Tzatziki sauce. Includes an authentic Greek side salad. Enjoy a cold Coors Light bottles for $2 and pints for only $1.50.
Order from their full menu at https://www.weeblesbarandgrill.com/menu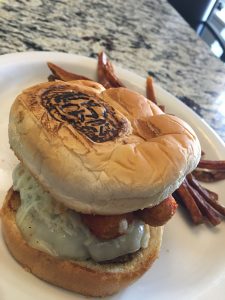 Springfield Carriage Co.  
724 E. Edwards St.
217-572-1457
Hours: Sun-Wed 8am-2pm, Thu-Sat 11am-8pm
More Chz Please – A 5 oz. burger filled with mozzarella cheese, Parmesan cheese and provolone cheese, topped with two marinara-tossed mozzarella sticks and served on top of garlic bread bun and with a side of fresh cut fries. Don't forget. They are open for breakfast.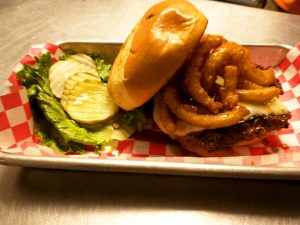 Trade Winds Pub and Eatery  
1700 Recreation Drive
217-679-3482
Captain Burger – A 1/3 lb. Angus beef patty topped perfectly with pepper jack cheese, onion straws and homemade Captain Morgan sauce. Includes hand-cut fries.
Support them even more and order from the full menu at https://www.tradewindspubandeatery.com/menu.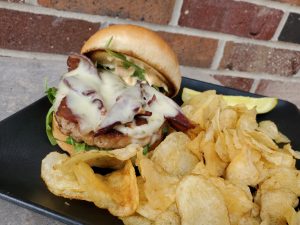 Pease's at BUNN Gourmet  
2476 Plaza Drive
217-793-1840
Hours: Mon.–Thu. 10am-7pm, Fri.–Sat. 10am-8pm, closed on Sunday
Chipotle Turkey Burger – A 6 oz. turkey burger topped with applewood smoked bacon, chipotle pepper cheese and fresh arugula on a grilled brioche bun. Enjoy a $2 Coors Light in a bottle with your burger.
Check out all of their deliciousness at gourmet.bunn.com.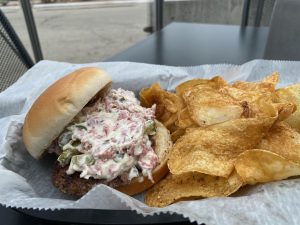 Burger Bar and Back Door Lounge  
2765 S. Sixth St
217-528-9030
Hours: Mon.-Thu. 11-10, Fri. and Sat. 11-11, Sun. 11-8
Pickle Dip Burger – A 5 oz. fresh, never frozen, beef patty smothered with baby dill pickle dip and served with homemade chips. Coors Light bottles or drafts $2.50.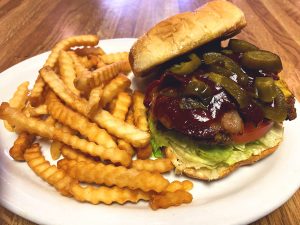 Track Shack  
233 E. Laurel St.
217-522-0444
Barbecue Pork Burger – Fresh pork burger topped with bacon, cheddar cheese, lettuce, tomatoes and jalapeno peppers, then drizzled with tangy barbecue sauce.  Served with a side of fries.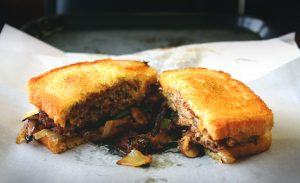 Krekel's Custard & Hamburgers  
2121 N. Grand Ave., E.
217-525-4952
Hours: Mon.-Sat. 10:30am-9pm.
Tombo – Double cheeseburger with cheddar cheese, bacon, caramelized onions, green peppers, mushrooms on toasted garlic bread.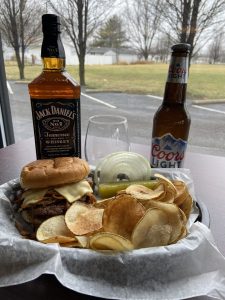 Silver Sevens Gaming Pub & Parlor  
3217 Lake Plaza Drive
217-585-0460
Hours: 11am-9:00pm, Sun.-Thurs. and 11 am-10pm Fri. and Sat.
Pulled Pork BBQ Burger – A savory Magro's burger topped with smoked pulled pork, BBQ sauce and pepper jack cheese, with a slice of sweet onion and pickle spear on the side, and served with homemade chips. Top it off with a ice cold Coors Light for $1.50 or a Jack Daniel's cocktail for $4.