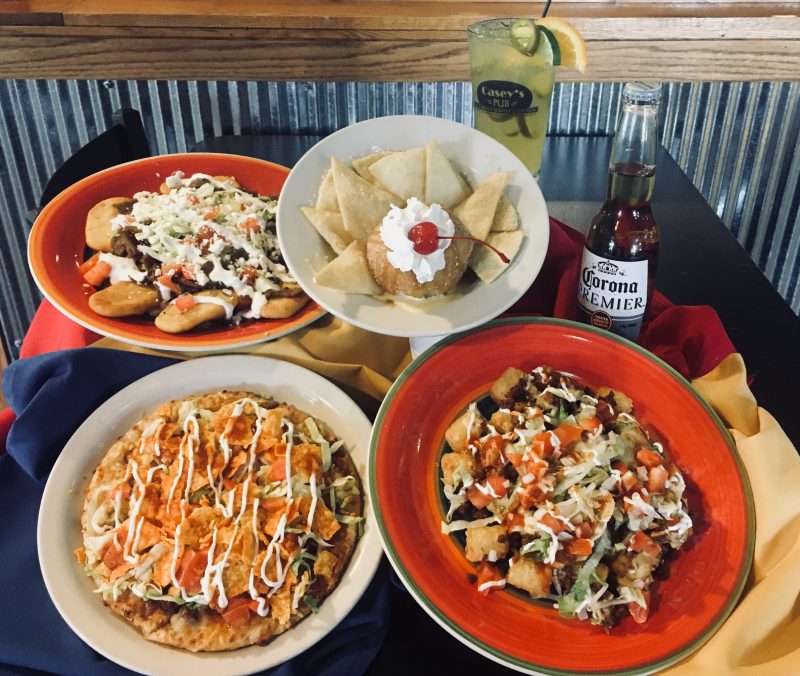 Casey's Pub

Columbian Grand Hall
2200 Meadowbrook Rd., Springfield
217-241-7101
Kitchen hours: Tue.-Sat. 11am-8pm (excluding Friday, March 26 after 4pm due to fish fry).
Greek Nachos – Pita wedges topped with gyro meat, lettuce, tomato, onion and feta cheese, and drizzled with tzatziki ranch. $7
Taco Pizza – A rising crust layered with taco sauce, seasoned beef, onion and cheese, then topped with lettuce and tomato, Doritos, sour cream and taco sauce. $7
Totchos – Tater tots loaded with seasoned beef and queso cheese sauce, topped with lettuce, tomato, onion, sour cream and taco sauce. $7
Finish the meal with fried ice cream for $5. Enjoy a refreshing $2 Corona/Corona Premier or a $5 el Jimador pineapple jalapeno margarita.
Curve Inn
3219 S. Sixth Street Road B
217-529-5806
Kitchen hours:
Mon – Thu: 11am-2pm and 5-9pm; Fri – Sat: 11am-9pm; Sun 11am-7pm
House-made potato chip or tator tot nachos
Served with your choice of BBQ pulled pork, garlic butter pork or taco meat. Dine in or to go, no problem. Just tell us what you want on them — diced tomatoes, green onions, jalapenos, feisty cheese sauce, black olives, sour cream and salsa. Drink specials include the Corona family for $3.25 or $4 El Jimador margaritas. Order from the full menu
Order from their full menu https://www.thecurveinn.com/menu
Facebook
Chadito's Mexican American Grill  
3030 S. Sixth St., Springfield
217- 529-8226
Mon.-Sat. 10am-8pm. Closed Sundays.
Sweet Carolina Tacos – Two smoked pulled pork tacos served with sweet Carolina BBQ sauce and topped with a corn salsa.
Blue Margaritas Mexican Bar & Grill

3151 Horizon, Springfield
217-670-1394
Mon.-Tues.: 11am-9pm, Fri. & Sat. 11am-10pm, Sunday 11am-9pm
Blue Margaritas' Nachos Supremos – A bed of fresh chips covered with white cheese sauce and topped with guacamole, sour cream, pico de gallo and jalapeños. Served with your choice of ground beef or chicken. How can you resist a cold, mouthwatering margarita made with our homemade margarita mix and el Jimador tequila?
The Taco Joint
230½ South Grand Ave. East
217-331-3536
Hours: Mon – Fri 11am – 8pm, Saturday 11am – 4pm
Nachos Libres (top pic): Carnitas, smoked brisket and grilled chicken topped with queso, pico de gallo and chipotle BBQ sauce!
Vampiro – Slow-cooked, tender brisket thrown face down into a blend of cheeses and grilled 'til crusted, then served in a corn tortilla with black bean dip and cilantro.
Main Gate Bar & Grill  
2143 N. 11th St. (across from Illinois State Fair main gate)
217-528-8940
Hours: Breakfast 6am-11am, 11am, Lunch and dinner menu 11am-midnight.
Trio del Tacos – Three crispy fried tortillas (one chicken, one ground beef and one steak), filled with lettuce and pico de gallo, and topped with chipotle mayo and taco sauce.
Loaded Nachos – Tortilla chips, homemade cheese sauce, taco meat, shredded cheese, onions, tomatoes, jalapenos, salsa and sour cream.
Watermelon Picante Punch – Wash down all that delicious food with an el Jimador tequila-infused watermelon punch that has a slight kick of jalapeno. Support them now and order from their full menu.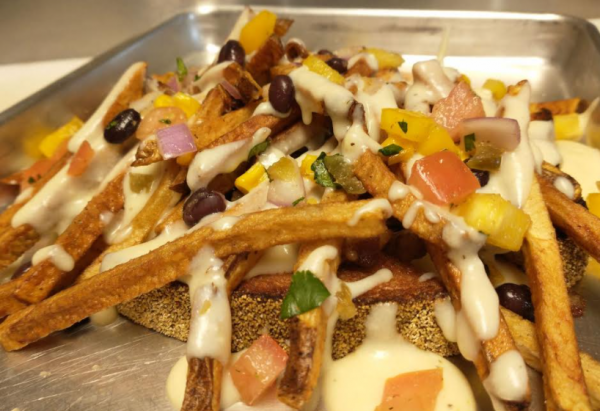 Trade Winds Pub and Eatery  
1700 Recreation Drive
217-679-3482
Mexican Shoe – Carne asada on toasted jalapeno cornbread, topped with our homemade queso cheese sauce and tomatoes, black beans and roasted corn salsa.
Facebook
Support them even more and order from the full menu at https://www.tradewindspubandeatery.com/menu.